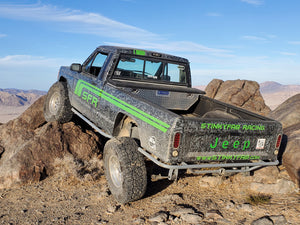 THE LAB RAT IS FOR SALE! ***SOLD***
SOLD!!!!!!!!
Yep, that's right, you can now own one of the most badass Jeep Comanches out there. This was our test bed for virtually every product SFR has developed for the XJ/MJ vehicle platform, and as a result has virtually every product we make. If you know anything about our products, that basically means this Jeep has the best of everything. On top of that, virtually every single drivetrain component has been replaced. From axles to engine, EVERYTHING is new with less than 5000miles on it. 
The Lab Rat is a 1989 Jeep Comanche, Short Bed, 6cyl, auto, originally a 2wd, but converted to 4x4.
4.7l Bishop-Buehl Racing Engines (Russ Pottenger) Stroker motor. Passes CA smog with ease. Jeep will come with a fresh smog cert if you're a CA buyer. 

New Scat stroker crank
Hypereutectic Pistons, Bishop-Buehl designed and machined

Bishop-Buehl 4130 H beam rods with ARP studs and floating wrist pins

Comp Cams / Bishop-Buehl custom ground camshaft

pn. 68-235-4

Harland Sharp 1.65:1 ratio roller rockers

Ported high flow head with LS valves and springs
Borla Header with 2.5" downpipe (C.A.R.B legal and long discontinued, impossible to find) Ceramic coated. 
Roughly 285hp, will easily smoke the tires and launches hard. 
R.E.M.2 diagnostic display for keeping an eye on everything
OEM full gauge cluster swapped from an XJ.

Freshly rebuilt AW4 Automatic trans with Shift kit, column shift
NP231 Transfer Case with Advance Adapters SYE and SFR shift linkage
Custom built, heavy wall TIG welded rear driveshaft
Dana 30 Front axle

4.88 Motive Ring & Pinion set
Powertrax No-Slip Locker in new carrier
Ten Factory Cromoly axle shafts
SFR Heavy Duty brackets including track bar, upper and lower control arm mounts. 
Johnny Joint upper control arm inserts.

Dana 44 Rear Axle

4.88 Motive Ring & Pinion
Powertrax Grip-Pro all gear differential
Ten Factory Cromoly axle shafts
Disc brake conversion

33x12.5x15 Falken AT3w tires with less than 2000 miles on them, mounted on Ultra alloy wheels. (some pics show old pro-comps which have been replaced. One full size Pro-Comp spare is included)
4" lifted suspension with custom SFR shackles in the rear, Bilstein 5165 remote reservoir shocks, prothane bumpstops, etc. This thing rides like a Cadillac both on road and off. It's seriously smooth as butter, and more at home in the whoops than any street legal XJ or MJ that we've driven.
SFR Long Arm 4-Link front suspension with transmission and t-case skids and crossmember. 7075 Aluminum links and Johnny Joints throughout.
RockJock4x4 Anti-Rock front sway bar setup, flexes great in the rocks, and can be driven down the street or freeway with your fingertips. 
SFR Premium 7075 Aluminum 1-ton steering kit
Custom built, one-off SFR tube bumpers
Front bumper hides a Warn 9.0RC competition winch behind the license plate.
Rear bumper is extra high clearance with receiver hitch for recovery. 
Custom SFR built tube rock rails.
PRP Racing low back bucket seats
Fresh interior carpet
Custom LED taillight boxes welded into bed corners
Herculiner roll-in bedliner with aluminum bed storage box
Entire cooling system has been replaced and upgraded including high flow water pump, fan clutch, Cold Case Aluminum Radiator, etc. 
SFR Front Frame stiffeners (discontinued product)
SFR Steering box frame reinforcement
Full SFR drivetrain mount package including motor mounts, engine mounting brackets and trans mount.
Custom 2.5" exhaust with high flow (CA legal) cat. Has nice rumble, without being loud and obnoxious. 
keyless entry system
'97+ front grille and fender swap to update the looks
Full Vinyl wrap. Green graphics are applied on top of digital camo wrap and can be easily removed, or entire wrap can be removed if desired. (white underneath)
This truck has been a several year project for our business, and was intended to be a showcase of our products and skills. No expense has been spared and we've put the best of everything into it. If you add the prices of all the top shelf parts installed on this truck you'll quickly find that the parts alone would cost you more than we're selling the entire vehicle for, and that's without the cost of labor or the truck itself. It runs strong and reliably and it's ready to drive to work and the trails in style. It rides absolutely fantastic both on the street and through the desert. The suspension flexes well in the rocks, is super stable and hooks up on side hills and climbs. Plenty of power, comfortable to drive, and catches eyes everywhere you go. You absolutely will not find a better built, higher quality, more nicely modified Comanche on the market today. 
Located in the San Diego, CA area, shipping can be discussed.
$20,000 OBO.
Cash only, we don't deal in tattoos or bitcoin. Contact stinkyfabracing@gmail.com if you're interested. 
---